GTG 2012 Ride - Boston to San Francisco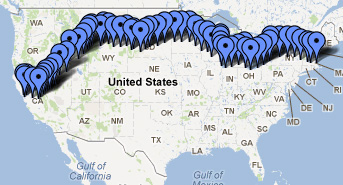 This year, a new team of riders has taken on Michaela's Greater Than Graves challenge, embarking on a 4,080 mile, 59 day bicycle trip from Boston, Massachusetts to San Francisco, California.
The 2012 GTG team is comprised of cyclists Elias McQuade, Keating Tufts, and David Britton and support vehicle driver David Casinghino. The team rides for Elias' sister Molly, recently diagnosed with Graves' Disease, and for everyone living with Graves' and other thyroid conditions.
The event will once again benefit the Graves' Disease and Thyroid Foundation, a 501(C) (3) organization that for more than 21 years has been a leading source of help and hope for those diagnosed with Graves' disease.
Individual and Corporate sponsors are still needed. Please consider donating to this worthy cause!